The 15-minute city: utopia or feasible? | Knowledge & Environment | DW
Cities around the world are growing faster and faster – and with them the problems associated with poor planning. These include social inequality and exclusion, a congested transport network, smog and the associated damage to health and the environment.
According to the United Nations, by 2050 two thirds of the approximately 10 billion people on earth will live in urban regions 15 years ago.
One idea of ​​how this future could be made more sustainable, liveable and healthier is called the "15-minute city".
Shopping, greenery and work – all within easy reach in the 15-minute city
More quality of life for city dwellers and all essential needs nearby: The basic idea of ​​a 15-minute city is that residents can walk or cycle to everything they need in about 15 minutes. Many people in big cities can only dream of this today: traffic jams on the way to work and often poor connections to public transport cost a lot of time and nerves worldwide.
Whether it's the way to work, shops, schools, the doctor's office, sports fields, parks, restaurants or cultural institutions, it's all about "access for everyone, anytime", writes Carlos Moreno from the Sorbonne University in Paris, who first formulated the idea in 2016.
A concept that puts people and their needs at the forefront of urban planning, a kind of "human centered design".
In order to design cities that are more liveable and sustainable, city planners have to rethink: Green spaces, sports areas, cinemas or shops should be placed where people live and not the other way around, according to Benjamin Büttner, mobility expert at the Technical University of Munich.
Not everything has to be demolished and rebuilt for this, but existing public space simply be transformedsays Buttner.
On the other hand, the 15-minute city is also associated with a clear mobility concept: above all, fewer cars and more space for cyclists and pedestrians, safe routes for children, people with disabilities and seniors as well as spaces for encounters and social exchange.
"Cars are a problem, at least in urban centers. They simply take up too much space. Above all, they can hinder active mobility," says Büttner
Paris to Shanghai: more and more cities are remodeling
There are currently 16 cities worldwide that have already implemented the 15-minute city or similar concepts or are planning to do so. The approaches vary: some cities want to implement 20-minute concepts, others 10-minute ideas, some concentrate initially on individual districts, in others the entire city is being redesigned.
No romantic fog, but toxic smog: Paris wants to take countermeasures with more cycle paths and new urban planning
The French capital Paris is one of the pioneers. After Carlos Moreno presented the concept in 2016, Mayor Anne Hidalgo included the concept of the 15-minute city in her re-election campaign and started to implement it.
At the heart of the Paris concept are the schools as "capitals", i.e. the centers of the respective districts. To this end, some schoolyards are being converted into parks so that they can also be used for other activities after classes and at weekends.
In Paris, half of the 140,000 parking spaces are also to be redesigned and converted into green spaces, playgrounds, neighborhood spaces or bicycle parking spaces. By 2026, all streets in the French capital should be bike-friendly.
In 2016, Shanghai also announced that it would introduce so-called "15-minutes community life circles". In the future, everyone should be able to do their daily activities there within 15 minutes on foot. 50 other Chinese cities also want to take up the concept.
An initiative in Great Britain also aims to improve the quality of life for city dwellers. The British government has announced that, as part of a nationwide renaturation program, everyone will be able to reach a green space or open water from their place of residence in no more than 15 minutes.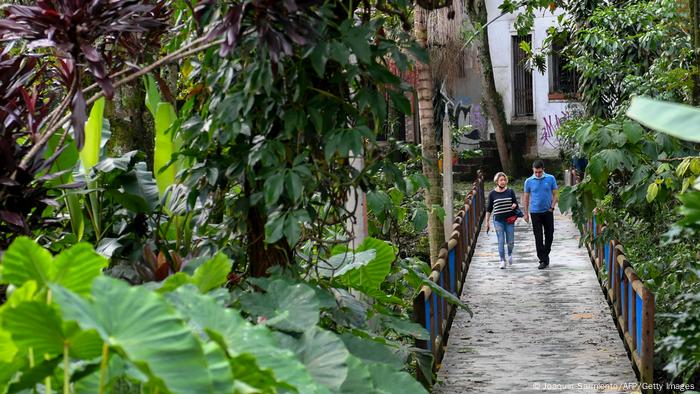 Medellin in Colombia became known for its green corridors and was awarded for it
The "superilles" or super neighborhoods of Barcelona
Barcelona in Spain has been experimenting with so-called "superilles" for some time, in German "super islands" or "super blocks". Several blocks of houses are combined into a super block. Only residents or delivery vehicles have access by car, ten kilometers per hour is the maximum speed.
Many roads are closed to cars and used for other purposes. Where there used to be parking lots, there are now trees, children play and senior citizens sit in the shade on a park bench and vegetables and flowers thrive in raised beds.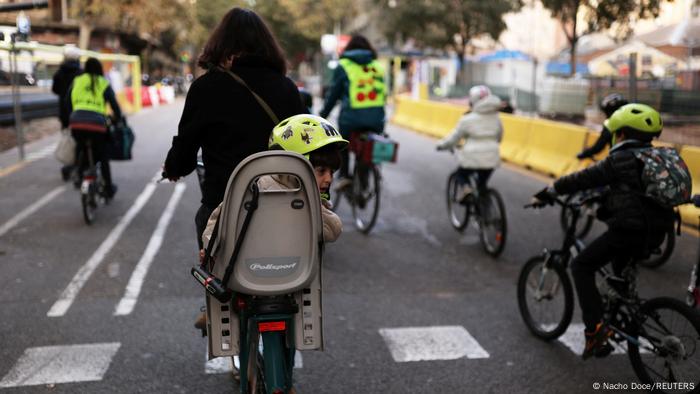 In Barcelona, ​​the parents' initiative "Bicibus" ("bicycle bus") brings the children to school by bike on car-free streets
Büttner calls this approach "tactical urbanism". The concepts are each tried out for two to six months, "to then see whether the situation has improved or even worsened. And then you can still say, let's go back to how it was before. But if it has gotten better, then you can also make it a permanent measure."
Currently in Barcelona, ​​60 percent of the public space and 85 percent of the streets are used for traffic. More than half of the residents are noise and exposed to air pollution, which significantly exceed the WHO limits and lead to higher mortality rates. The new quarters are intended to reduce motorized traffic by 21 percent. In the future, instead of 56 percent of people, only 6 percent will be exposed to air pollution beyond the limit values.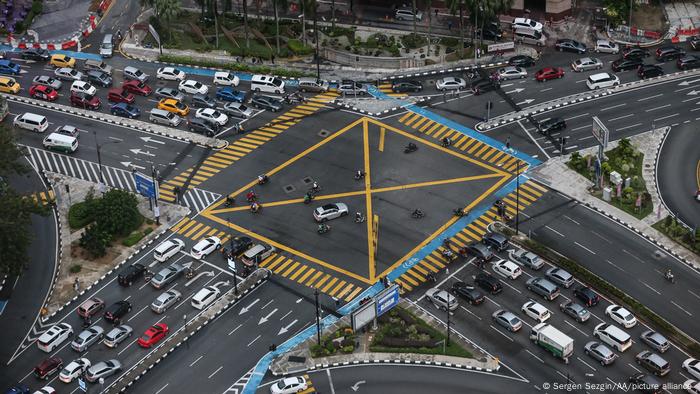 Little living space for people: A large part of the space in cities is currently used exclusively for traffic
Does a lack of traffic hurt business?
If you don't need a car for everyday life, you save money. Cities that invest in cycle paths, footpaths, public transport and green spaces are also more attractive for tourism and attract visitors.
Studies show that more cycling and walking in Cities and regions costs saves because they spend less money on road maintenance and the public health sector.
According to the European Cyclists' Association, the positive effects of cycling are estimated at over 90 billion euros in the EU alone. Motorized traffic, on the other hand, causes more than 800 billion euros in health, environmental and infrastructure costs there every year.
Many business owners are initially skeptical because they fear a drop in sales if customers can no longer drive up. In fact, they too can benefit from 15-minute measures, such as in the western US city of Portland, where car traffic decreased by 20 percent. At the same time, local businesses have since earned about $1.2 billion more because pedestrians and cyclists shopped more often along the way.
15 minute concepts different for each location
So that as many people as possible benefit from the change and there is no threat of new inequalities and gentrification, according to experts a social mix in the districts and the inclusion of as many parts of the city as possible is important. This also requires a rethinking of usage regulations and classic planning categories such as city center, residential area, suburb, commercial and peripheral areas, which have contributed to social inequality and exclusion in cities worldwide.
According to Büttner, what is needed above all is political will and courage on the part of politicians and administrations – and a dialogue close to the people with everyone involved.
Because there is no one-size-fits-all solution for all cities. Every place, every social, economic and ecological structure of a city is different, emphasizes Büttner. And depending on the context, it should be decided what measures best fit.