Record sum for nature conservation – super rich donate 5 billion for biodiversity – knowledge
contents
Patrons donated $5 billion to global conservation. What can this money achieve – and for how long?
Hansjörg Wyss from Bern got rich with his medical technology company Synthes. He has been living in the USA for many years now and uses his billions as a patron.
Last week he was on the sidelines of the UN General Assembly announced that he would donate an additional $500 million to global biodiversity. Amazon founder Jeff Bezos donated $1 billion. Together with seven other donations from the super-rich, this raised five billion dollars. The money will be used to protect 30 percent of the earth's land surface and 30 percent of the oceans by 2030.
Never before has so much money been donated to biodiversity. Various nature conservation experts who were contacted consider the financial support to be noteworthy. "For me, these donations have a new quality," says Raffael Ayé, Managing Director of Birdlife Switzerland, "because people are also involved who have not previously shown themselves to the public in connection with the biodiversity crisis".
What happens if the founder dies?
Private donors can achieve a lot in nature conservation in the short term. But experience shows that in the long term, civil society and the states will have to pay for nature conservation, as all the experts interviewed agree.
This can be seen in the example of Luc Hoffmann. The zoologist and Roche heir bought land for conservation in the Camargue in southern France and elsewhere back in the 1950s and did a lot to protect wetlands. But Luc Hofmann died five years ago and his heirs are now using the money differently. Hofmann's Mava Foundation, which has also supported nature conservation in Switzerland with large amounts, will no longer pay anything from 2023.
Indigenous people want to be heard
The Bernese billionaire Hans Wyss has already bought up huge areas of land and secured it for nature – in Argentina, Peru, the USA and Canada, for example. But that only works if it's private land. A 2019 study by the World Biodiversity Council shows that half of the areas most valuable for biodiversity are already inhabited by indigenous or local populations. In principle, however, this is not a problem, says Eva Spehn from the Swiss Biodiversity Forum, because in most cases the previous, extensive use of nature does not harm it. A rethinking has taken place: "Protecting no longer just means classic nature conservation, where you put a cheese dome over the valuable areas and exclude people." Protected areas with sustainable use are possible.
30 percent of the area for nature

open box
close the box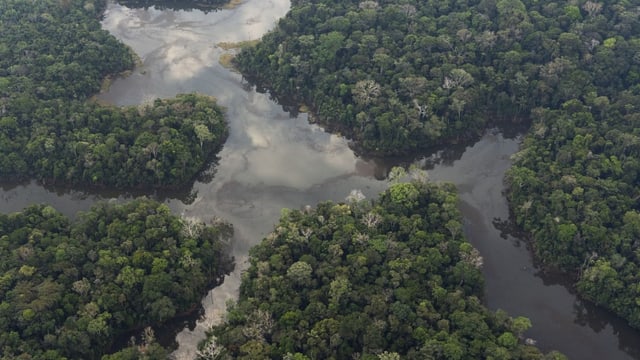 The number of animal and plant species is declining sharply. One million of an estimated eight million animal and plant species will become extinct in the next few decades if a radical change in the use of nature is not initiated immediately. This is the conclusion of a report by the World Biodiversity Council.
Numerous environmental organizations are therefore calling for at least 30 percent of the land and sea area on earth to be placed under protection by 2030. The so-called 30×30 goal is also represented by a group of states that sees itself as a coalition of the ambitious. Switzerland is one of them. This goal will be discussed at the forthcoming UN World Biodiversity Summit in October and May in Kunming, China.
Protection beyond strictly protected areas
Conversely, protection should not end at the park boundary, says Claude Martin, the former general director of WWF International: "Highly toxic pesticides, for example, also get into the protected areas from outside and cause immense damage there." In addition, in many countries, such as densely populated Switzerland, it is almost impossible to find new areas for nature conservation. The goal must therefore be to massively upgrade areas that are already in use, in order to stop the extinction of animal and plant species.
The wealthy donors want to take these considerations into account. They have announced that they want to work closely with local people, conservation organizations and local governments.