Losing business winter – "Silver Tourism" – alternative for declining ski tourism? – Knowledge
Contents
Winter is increasingly a losing proposition for low-lying ski resorts. Experts advise expanding year-round tourism and promoting offers for older people. The phenomenon of the "aging society" is turning this segment into a growth market that has received too little attention to date.
Was it really such a miserable winter this year? "Different depending on the destination and the lower the location, the more problematic it is," says Jürg Stettler, Professor of Tourism at the Lucerne University of Applied Sciences and Arts, summarizing the ski season.
Thanks to artificial snowmaking, ski areas at high altitudes had a good to very good winter. For lower-lying places, such as Sattel-Hochstuckli (Schwyz), it was a winter to forget. The important Christmas business collapsed completely and there was also a lack of snow during the sports holidays.
Development of year-round tourism
Experts agree that for ski resorts to have a future, year-round tourism must be massively expanded. «From October to mid-November it is the best hiking weather and the hotel and restaurants are closed. That must not happen! », warns Thomas Egger from the Swiss working group for mountain areas SAB.
Sattel-Hochstuckli recognized the signs long ago and managed the turnaround. Summer tourism now generates more than half of sales.
«Silver Tourism»: a growth market
According to Thomas Egger, however, there is still potential for tourism in the mountains: "The population is getting older and this potential has not been fully exploited to this day." In technical jargon one speaks of «silver tourism», a segment that is growing faster and faster. According to forecasts, the number of people over 80 in Switzerland will more than double in 2050 – from 460,000 today to over 1 million.
Worldwide Numbers

open box
close the box


It's increasing worldwide number of older tourists until 2050 1.5 billion. They make up 16 percent of all international tourists.
The over 55s is the largest and fastest growing group of tourists. Share in 2018: about half of domestic and international trips.
Source: UNWTO study 2019:
And they are vital, have time and enough money to travel. However, their demands on the tourist infrastructure are still not taken into account enough today. "The older people no longer want to go skiing, they want to hike, discover a region culturally or culinary," says Egger. The geographer also sees a lot of potential in the combination of wellness, health and medical offers.
Advertise with slowness on the mountain
Another idea is cross-generational travel offers – attractive for young and old. And it is precisely this concept that the Schatzalp in Davos follows. The focus is on the historic Art Nouveau hotel.
This is where Thomas Mann once wrote his masterpiece «The Magic Mountain». The three ski lifts, natural snow slopes, hiking and sledging trails offer alternatives to skiing. Operator Pius App deliberately advertises the slowness on the mountain.
More and more older people and families are avoiding the large ski areas for fear of being run over.
"More and more older people and families are avoiding the large ski areas for fear of being run over". This led App to the idea of ​​"slow mountain", the first decelerated ski area in Europe.
Tourism expert assesses alternatives

open box
close the box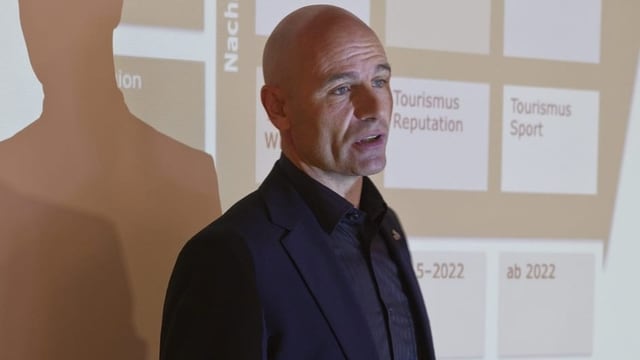 Characteristics of «silver tourism»
Tourism for older people who are retired or about to retire. age group of the "silver generation", are financially secure, have more money for travel and experiences and are still mobile.
Interview with Jürg Stettler, Professor of Tourism, Lucerne University of Applied Sciences and Arts.
Are the ski resorts already "age-friendly" today?
Many destinations have started offering special offers for this target group. For example, barrier-free accommodation, cultural tours, wellness and health offers.
What potential does «silver tourism» still have?
A large segment, and due to the "aging society" it is a growing segment. Older people are becoming more and more active and keen to travel. However, it depends on the economic development and the future of our pension provision.
Characteristics of «slow tourism»
Travel that focuses on connecting with local people, cultures, food and music. A journey is meant to teach and make an emotional impact while also being lasting.
How important is "slow tourism" today?
It's an interesting niche with growth potential. In addition, "slow tourism" suits Switzerland very well, actually much better than mass tourism.
Is this a future model for sustainable winter tourism?
For small areas it is an option, for large areas it remains only a niche or a partial offer.
"It took a bit of courage. It's not good to advertise with slow ski lifts," says Pius App. Many would have laughed at the concept at first. "The ski area alone is not profitable," App continues. Winter and summer sales are balanced at 50 to 50.
For comparison: in the Klosters-Davos ski area, the ratio is 90 percent in winter to 10 percent in summer. "Slow tourism fits in very well with Switzerland, but it's only a niche product and an option especially for smaller ski areas," says Jürg Stettler.