Less food waste – protective cover made from organic waste keeps bananas and cucumbers fresh for longer – knowledge
contents
The federal research institute Empa has developed a wafer-thin protective layer for fruit and vegetables. It consists of the waste that is produced during juicing. But that's not the only thing that's sustainable about the new coating.
Plastic packaging on the fruit and vegetable shelves always causes heated discussions: Does each cucumber have to be individually wrapped? Do the raspberries have to be offered in plastic bowls?
The packaging is important for some of the vitamin bombs because it keeps the goods fresher for longer: Cucumbers don't go limp as quickly, broccoli doesn't turn yellow straight away, and raspberries last longer. This reduces food waste. The annoyance with the plastic remains.
Empa has now developed a new cellulose-based protective cover that keeps fruit and vegetables fresh for longer and can also help to reduce packaging waste. The protective film was tested on bananas. According to the research institute, they lasted a week longer than without the case.
You could even eat the protective cover
The casing is made from pomace, the solid residue that remains after squeezing fruit and vegetable juices. The residues are processed into a cellulose solution that is applied to bananas, cucumbers, etc. as a wafer-thin film. This "coating" does not end up in the customers' rubbish, but can simply be washed off or even eaten with them.
cellulose

open box
close the box


The polysaccharide is the main component of plants and therefore also of our fruits and vegetables. Cellulose forms the framework of plants and gives them their stability. In our food, it promotes our digestion as indigestible roughage.
Tanja Zimmermann, the initiator of the project at Empa: "We wanted to think in terms of the circular economy: we use fruit and vegetable waste to produce less fruit and vegetable waste." The researchers developed the new material on behalf of the retailer Lidl.
"All retailers are under enormous pressure to reduce their plastic packaging," says Catharina Bening, who researches circular economy and plastics at ETH Zurich. "Reducing food waste is much more important for the ecological balance, especially with fresh food."
Now the coating has to prove itself
Over the next two years, Empa wants to test the new cellulose protective cover on vegetables that perish particularly quickly, primarily on lettuce, mushrooms and cucumbers.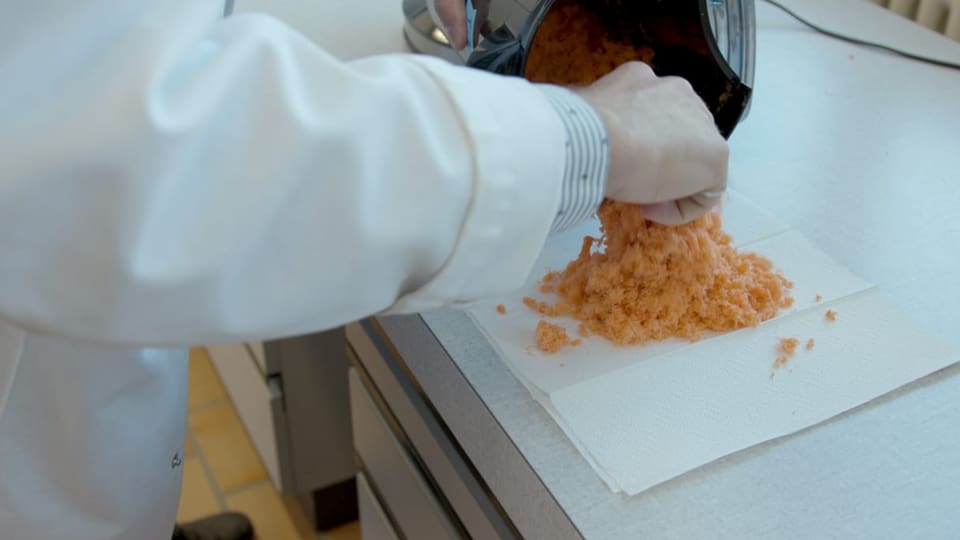 To this end, the cellulose film is to be further improved and the manufacturing process optimized so that the new material can replace today's packaging systems. If the pomace casing proves its worth, it could be on the first vegetable shelves in two years.
The advantages that the new protective cover brings to the environment must still be considered in a differentiated way, says Catharina Bening: "The cucumber needs the plastic tube mainly because of the long transport routes from Spain or even Morocco."
A cucumber from outdoor cultivation in Thurgau, which has short transport routes and comes directly to the consumer, does not even need this plastic packaging.