Heat pump: is it worth installing in older houses? | Knowledge & Environment | DW
The demand for heat pumps is booming. 2021 were according to the European Heat Pump Association 2.2 million heat pumps installed in buildings, 34 percent more than in the previous year. According to the association's forecast, five times more heat pumps will be installed each year by 2030.
Heat pumps are now being planned in most new buildings, and more and more owners of old buildings are considering whether they should switch to environmentally friendly heating technology.
Heinrich Pfennings also wants to move away from natural gas for heating. His family home in Overath near Cologne is from 1990, the gas heating is over 30 years old. "Previously, we had gas costs of 1,350 euros a year. But gas has become more expensive. At the moment we're paying 2,500 euros a year," and prices continue to rise, says Pfennings. According to the state of the art at the time, his house was well insulated.
Pfennigs needs 21,000 kilowatt hours (kWh) of natural gas every year to heat 170 square meters of living space and for hot water for the three residents. That corresponds to 123 kWh per square meter – still only half as much as in an even older, unrenovated house. New buildings today are much better insulated and often need less than 50 kWh per square meter.
Heat pump for an old building without underfloor heating?
What exactly is the best option for Pfenning's house right now? A water, air or ground source heat pump? Or one with additional gas heating for particularly cold winter days? Finding out and finding a suitable company for the installation turned out to be more difficult than expected.
Many heating engineers in Germany still have little experience with heat pumps. Pfennings therefore received conflicting information from various craftsmen as to whether a heat pump would even make sense for his house. "There were two camps. One said: Forget a heat pump if you don't have underfloor heating. And the other said: Yes, it could work."
Pfennings is a trained computer scientist, he informed himself about the technology and spoke to neighbors who had already converted.
Heat pumps are very efficient when they only have to heat the heating water that flows through the pipes into the radiators to a low temperature. "Every degree lower in the temperature of the heating water improves the efficiency of the heat pump by 3.5 percent," explains Professor Werner Schenk, an expert on heat pumps at Munich University of Applied Sciences, to DW.
To test whether the low temperature also works with his old radiators, Pfennings did the test last winter and throttled the water temperature of his old gas heating.
"I looked at how the house reacted to low flow temperatures. My control didn't allow me a temperature below 40 degrees. And I got by with my 40 degrees flow temperature even on cold days." Good prerequisites for a heat pump.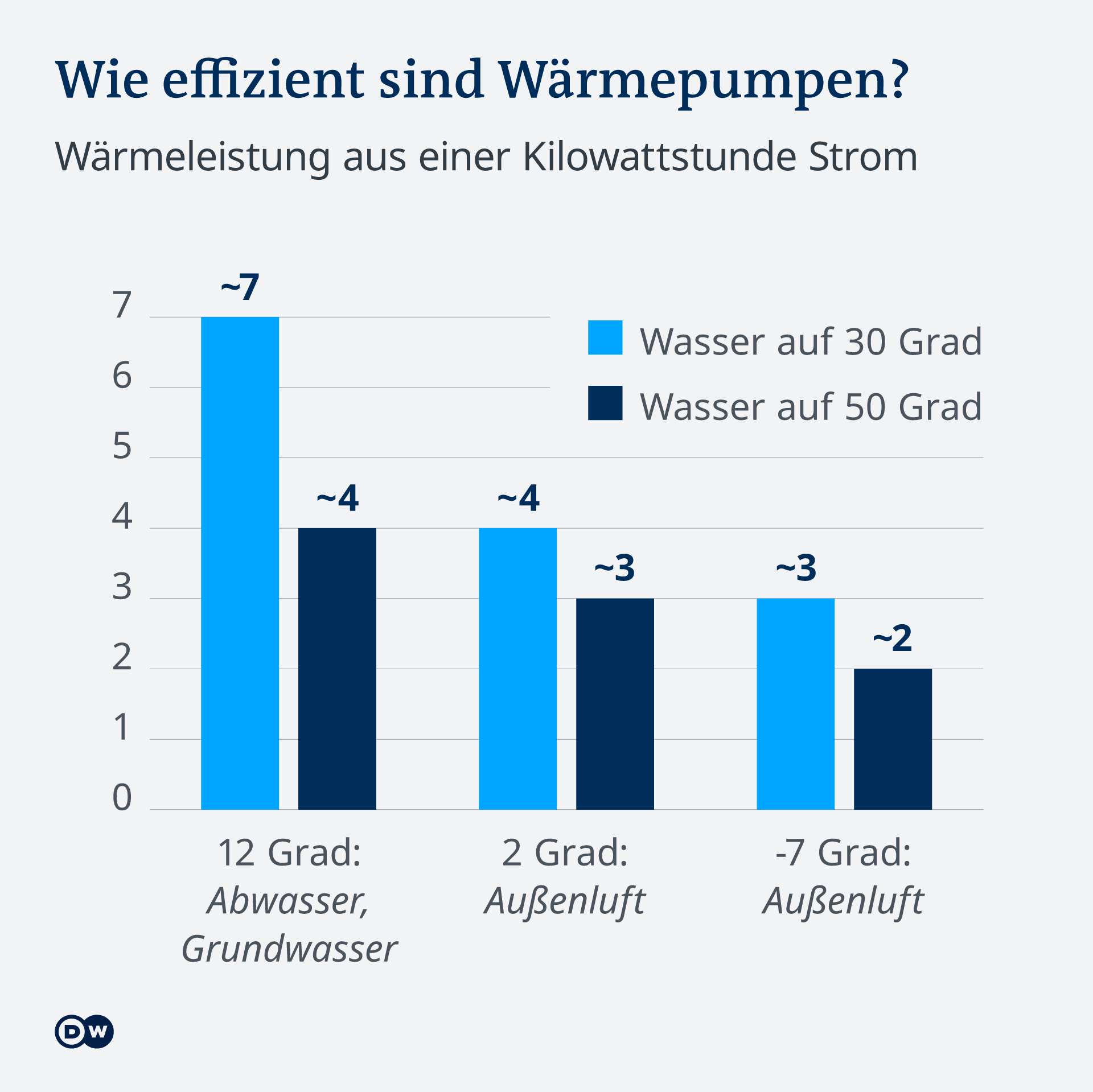 Retrofitting: how efficient are heat pumps?
In principle, heating with heat pumps also works in old buildings, says Marek Miara from the Fraunhofer Institute for Solar Energy Systems ISE in Freiburg. His colleagues and he have 60 different heat pump systems in Germany were examined. The result: "In older buildings, heat pumps with air as the heat source produce an average of around three kilowatt hours of heat from one kilowatt hour of electricity," says Miara. Somewhat more efficient are heat pumps with groundwater and soil as a heat source. "They generate 3.9 times as much heat on average."
With an average temperature of two degrees plus in winter, Pfennig's home town of Overath is one of the warmest in Germany. He has decided on an air heat pump and is now hoping for a suitable offer.
Pfenning's air heat pump is cheaper to buy than a geothermal heat pump, which would require drilling in the ground. The new system will cost around 31,000 euros, including installation, and Pfennings will receive a 30 percent subsidy from the state.
Efficient operation with buffer tank for heating water
In order for the heat pump to run more economically, a so-called buffer tank for the heating water is to be installed at Pfennings. As a result, the heat pump can run evenly for a longer period of time, the frequent switching off and energy-consuming starting of the pump is reduced.
Adjusting the heating system is also important for optimal operation. The valves on the radiators will remain open as much as possible in the future. Then they give off enough heat in winter, even when the heating water temperature is low, and the heat pump runs more efficiently because it doesn't have to reach such high temperatures.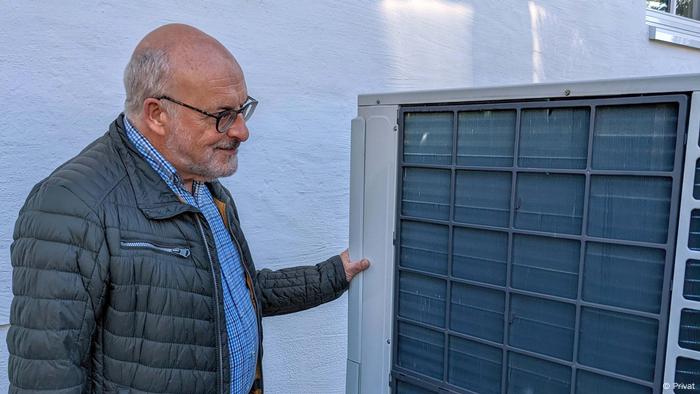 Heinrich Pfennings looks at his neighbor's air heat pump and now wants to convert his own house too.
Solar power makes heating with a heat pump cheaper
With the new heat pump, Pfennings will generate around 4.2 kWh of heat with one kWh of electricity, as the Internet calculator from the Association of Heat Pump Manufacturers. With a heat requirement of 21,000 kWh per year, it needs around 5000 kWh of electricity to drive the pump.
Pfennigs can then generate around 40 percent of the electricity itself with the recently installed photovoltaic system on the roof. The battery-powered system generates 10,000 kWh of electricity per year and can cover the electricity needs of the heat pump from spring to autumn. But in the winter months from November to January, the heat pump needs additional electricity from the grid.
Nevertheless, Pfennings will save with the new heating system: He currently pays 2500 euros a year for heat from natural gas, with the heat pump it is probably less than 2000 euros. And he not only saves money: By expanding his natural gas heating system, he prevents further emissions of around three tons of CO2 per year.