Germany promotes green hydrogen worldwide | Knowledge & Environment | DW
Federal Development Minister Svenja Schulze spoke at the 27th UN Climate Change Conference in Egyptian Sharm el-Sheikh announced that Germany will invest an additional 550 million euros in a new global green hydrogen economy will invest. With the help of Germany's KfW development bank, the funds are expected to increase to 2.5 billion euros over time, said Stefan Wenzel, parliamentary state secretary in the Federal Ministry of Economics.
"The new green hydrogen economy must be fairer than the old fossil economy," said Schulze.
Developing countries, whose energy requirements could increase by up to 70 percent by 2050, must not be excluded from this market, the Federal Development Minister continued. "The developing countries must also benefit from the value chains of the future."
Masopha Moshoeshoe, who works as a green economy specialist at the South African President's Office for Investment and Infrastructure, said access to German money would accelerate the move away from fossil fuels.
South Africa plans to produce 12 million tons of green hydrogen annually from 2050. Half of that could be exported to help neighboring countries decarbonize themselves, Moshoeshoe said.
What exactly is green hydrogen?
Green hydrogen is considered an important component of a successful energy transition, because it can be used to produce climate-neutral fuel. For example, this fuel can be used in energy-intensive sectors that are considered hard to decarbonize – such as the steel industrythe air traffic or the shipping.
Green hydrogen is produced using the electrolysis process – water is split into oxygen and hydrogen. If this process is driven by the use of renewable energies and not with fossil fuels, none are created CO2 emissions. Only then is hydrogen considered green hydrogen.
If this is additionally mixed with CO2 from the air, a liquid synthetic fuel is produced. The technology is also called power-to-liquid or power-to-gas. The resulting fuel is climate-neutral because no new greenhouse gases are emitted during production.
With existing CO2, hydrogen can be turned into a synthetic liquid fuel (power-to-liquid) or gas (power-to-gas). There are no new emissions during production
Global trade and new hydrogen diplomacy worldwide
Green hydrogen production is still in its early stages, according to the International Renewable Energy Agency (IRENA), an international organization promoting renewable energy. However, large industrialized countries such as the USA and Germany are aiming for climate neutrality by 2050, by which time the production of green hydrogen is expected to increase to up to 400 million tons. That is more than four times the amount of so-called "grey" hydrogen produced in 2020, which is obtained using fossil fuels such as gas.
Green hydrogen, which can be produced in large quantities when renewable energies are plentiful, could then be used to generate energy when the sun isn't shining or the wind isn't blowing enough, he says IRENA in a March 2022 report.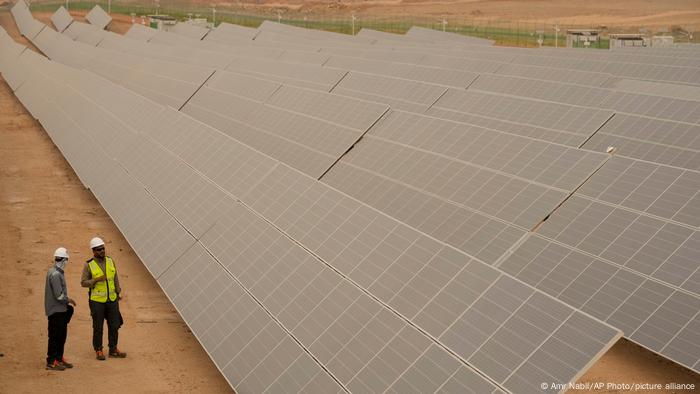 Countries like Egypt could become important producers of green hydrogen in the future
The climate-neutral fuel could also be a boon for countries in the Global South that have year-round renewable energies available. There, green hydrogen could be produced "all year round at a nearly constant rate without seasonal fluctuations".
For example, green hydrogen, which was produced with solar energy in sunny Egypt, for example, could be stored cheaply and traded internationally – even over long distances. Existing natural gas networks could then transport hydrogen instead.
IRENA experts assume that the hydrogen markets of the future will be more regionalized and smaller than today's large international markets for fossil fuels. Nevertheless, the development will lead to a "new hydrogen diplomacy", especially for countries with limited potential for renewable energies, such as Germany or Japan.
Why does Germany need green hydrogen?
"Germany's future need for climate-neutral fuels and combustible gases cannot be met from the renewable energy sources that exist here," writes the Federal Ministry for Economic Cooperation and Development on its website. Therefore, Germany will be dependent on the import of hydrogen products in the medium and long term.
Germany has recently Offices for "Hydrogen Diplomacy" established in countries like Saudi Arabia and Nigeria. Germany signed in early November two letters of intent with Egyptian ministriesto cooperate in the production of green hydrogen and trade in Liquefied Natural Gas (LNG) to intensify.
"Together we can help to advance the global energy transition and build cross-border, climate-neutral energy networks that are essentially based on green hydrogen," said Germany's Economics Minister Robert Habeck at the beginning of November. Habek is currently also relying on LNG. "In the short term, closer trade in Egyptian liquefied gas will help us to further diversify our energy imports and become less dependent on Russian gas," stressed Habeck.
The importance of LNG for the energy transition is currently the subject of heated debate. Since the gas does not emit as many CO2 emissions as coal, it is seen by many as a bridging technology on the way to green energy. However, critics such as the Canadian think tank The International Institute for Sustainable Development believe that the use of fossil gas hinders the energy transition.
In October, Germany also received a shipment of blue hydrogen from the United Arab Emirates. This is produced using natural gas. However, the resulting CO2 emissions are not emitted into the earth's atmosphere (that would be gray hydrogen), but stored or industrially processed.
However, the BMZ emphasizes that in future only cooperation projects that produce green hydrogen will be funded – and not hydrogen from fossil fuels.
This article first appeared in English and was then adapted into German.