Charcoal for the climate – biochar – what's the hype about the black miracle cure? – Knowledge
contents
More and more plants for the production of coal from plant waste are being built in Europe. An experiment is intended to show how this can help pave the way to a more climate-friendly agriculture of the future.
Early in the morning on the Juchhof farm in Zurich. A tank truck pumps liquid manure from a large basin. Not just any manure, but biogas manure mixed with a good 20 tons of biochar. The fertilizer mixture is correspondingly black.
The campaign is part of a research project by Grün Stadt Zürich in cooperation with the Research Institute for Organic Farming FiBL. The aim is to find out how the potential of biochar can be optimally used in agriculture.
Biochar as a carbon store
Biochar is particularly important in agriculture, explains soil expert Markus Steffens. "Because on the one hand you can store carbon in the long term and on the other hand it can improve the soil," says Steffens. 2.5 tonnes of CO2 equivalents can be permanently stored in the ground per tonne of liquid manure/coal mixture. Agriculture is the fourth largest greenhouse gas emitter in Switzerland. Compensation methods are required.
Coal is not just coal
Biochar has potential. The majority of researchers agree on this – provided it is produced correctly. Because coal is not just coal! In addition to unpolluted starting material, the pyrolysis process is crucial for production. Only then can high-quality, certified biochar be produced.
Pyrolysis process for the production of biochar

open box
close the box


In Switzerland, unlike in the EU, only woody waste is permitted as the starting material for certified biochar. The wood is chipped into small pieces and goes into the pyrolysis oven, where it is heated to up to 800 degrees Celsius, sometimes for hours.
Because this happens in the absence of oxygen, the wood chips do not burn, but char. In this way, the carbon is bound in the wood. If the wood were to burn or rot, carbon would be released.
Harmful gases, so-called PAHs (polycyclic aromatic hydrocarbons), are produced during charring. They are cremated in a second chamber. If this does not happen, the coal absorbs the toxic gases during the charring process. Guaranteed flawless and therefore harmless biochar is always EBC-certified.
High-quality biochar is very porous and therefore has unique abilities. A gram has a surface area of ​​up to 300 square meters. Like a sponge, it can store up to 5 times its own weight in water and the nutrients dissolved in it. Biochar can thus demonstrably contribute to soil improvement. This is also confirmed by a current study by the federal research institute Agroscope.
Study confirms positive effects of biochar

open box
close the box


Agroscope researchers have analyzed 30 meta-studies published since 2015 with a total of 1,650 scientific publications and over 14,000 evaluated data sets. Result: On average, biochar has a positive effect – whether in terms of water balance, nutrient availability or the reduction of greenhouse gas emissions.
In the study, the authors come to the conclusion: "There is no other development known to us in the field of agriculture, climate protection and the protection of ecosystems in which there is such a strong scientific consensus that, with all the proven agronomic potential, there are also so many positive ones ecological side effects are to be expected.» (Source: Schmidt H.-P., Hagemann N., Abächerli F., Leifeld J., Bucheli T. Agroscope Science 112, 1-71, 2021)
Unanswered questions about the application
But despite all the euphoria, there are still uncertainties. Almost all findings are based on laboratory and pot experiments and are not very meaningful when it comes to the use of large quantities. This is exactly where the research project by Grün Stadt Zürich and FiBL comes in.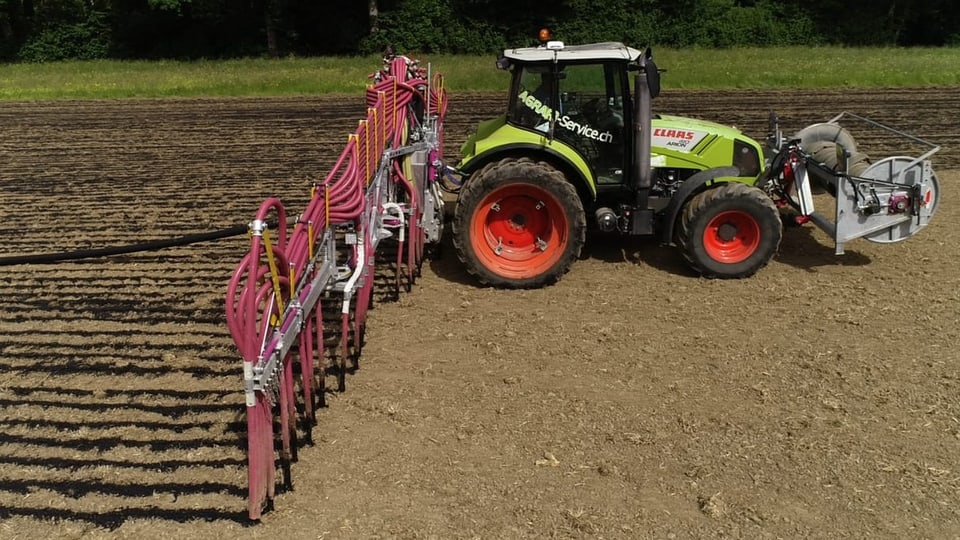 "The special thing about the experiment is that we apply large quantities," explains Markus Steffens. There are a total of 42 tons of biochar spread over six hectares of fields. The experiment will run for at least seven years. And it is a field test. The field is cultivated and processed according to common agricultural practice. In this way, the researchers want to close knowledge gaps and develop clear application recommendations for farmers.
High costs are a deterrent
At CHF 1,200 per tonne, the cost of biochar is high. Farms are businesses. Only when it is clear when biochar achieves the maximum benefit will farmers actually use it.
Conclusion: Biochar will not save our climate. Such amounts can neither be produced nor applied. But: There is a lot of potential in biochar. Not using it would be a missed opportunity. Both for agriculture and for the climate.