Biodiversity thanks to rice cultivation – How the cultivation of wet rice promotes biodiversity – Knowledge
contents
When it comes to wet rice, most people think of rice terraces in China that are thousands of years old. But wet rice has recently also been thriving in Switzerland – with many advantages. Cultivation brings profits to the farmers; endangered animal and plant species a new habitat.
Waterlogging in the soil is bad – at least for potatoes, beets or wheat. For this reason, 192,000 hectares of soil in Switzerland are drained, which means they are drained at great expense and the water is drained away through pipes. However, about a third of the drainages, some of which are already 100 years old, are in poor condition. They really should be renewed. Actually.
Yvonne Fabian, an ecologist at the Agroscope agricultural research center in Zurich, has another idea. It would be better to let some areas get wet again for species protection. Because wet biotopes are scarce in Switzerland.
Scarce wetland

open box
close the box


Since 1850, Switzerland has lost more than 90 percent of its moorland, floodplains and amphibian spawning areas. The reasons: major river corrections and many small drainage projects. The few wetlands that still exist are also under great pressure. Accordingly, species that depend on wetlands only occur as remnant populations. These habitats are no longer sufficient for sufficiently high reproduction or even spread.
This does not mean that the land for agriculture is lost. Because there is a plant that loves wet soil: wet rice, grown without pesticides. "That would be a very good culture for some farmers north of the Alps," says Fabian. She examines the biodiversity on Swiss wet rice fields and how biodiversity can be promoted even further.
Natterjack Toads and Grass Snakes are coming back
In Switzerland, only 13 farms are currently cultivating wet rice on a total of 13 hectares. They harvest four to seven tons of paddy rice per hectare, which they process and sell as a domestic product at a profit. At the same time, with the moist paddy fields, they create a habitat for species that are threatened with extinction – such as natterjack toads, grass snakes or the black-brown Cyprus grass.
"It's totally impressive what's going on in a wet rice field," says Fabian. With her team, she first took stock. For example, they saw tree frogs, which go through the entire development process in the field – from tadpole to young frog.
Or the marsh darter, which multiplies en masse in some fields. There are also many insect larvae in the water, which in turn are a source of food for birds. House martins circle regularly over the field. Waders such as sandpipers and snipes also stop here on their migration south. Rice fields that are surrounded by a moat and thus by an open water surface are particularly rich in species. Dragonflies and amphibians mate there. Hedges and grass along the edge serve as hiding places for frogs from predators. And what also serves biodiversity is to use as little fertilizer as possible.
Yvonne Fabian regularly exchanges new knowledge with the paddy rice farmers. They have also set up an interest group that advises farmers who want to start organic rice cultivation.
1000 hectares of land are suitable
There is potential, says Fabian. "We calculated that at least 1,000 hectares of land would be very suitable for growing wet rice." These also include fields whose drainage systems are getting on in years.
Most are located near fens or floodplains and close to a lake or river from which water can be taken to flood the fields. "Good water management is crucial," says Fabian, "and you have to do a lot of preparatory work for that."
Dry vs. wet rice cultivation

open box
close the box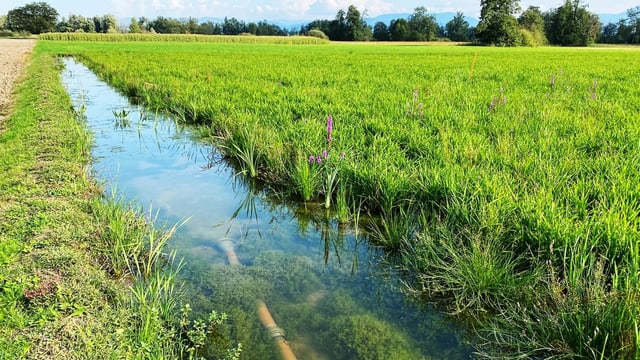 About 80 percent of rice worldwide is grown "wet" and only about 20 percent "dry". Dry rice is mainly planted in regions with little rainfall, high temperatures and in the mountains – in Switzerland exclusively in Ticino.
Due to the threat of pest infestation and relatively low yields, this type of rice cultivation is extremely expensive. When growing wet rice, the water keeps many pests away. The water consumption is correspondingly high for this.
Cultivation is actually only suitable for regions with ground, slope or waterlogging and proximity to lakes or rivers whose water can be used to flood the fields.
But then and when the temperatures are warm enough, rice cultivation is definitely profitable. So far, all 13 farms that have opted for wet rice cultivation have not given up again. Fabian: "It's really a win-win culture – good for agriculture and good for species protection."