Ambitious goals of the G7 environment ministers | Knowledge & Environment | DW
The Ministers of the Environment G7-Group of economically strong democracies want them plastic pollution be completed by 2040. They agreed on this after two days of consultations in Sapporo, Japan. With the decision, the G7 round goes one step further than before, because in 2019 the G20 countries had agreed on the end date of 2050.
Industrialized countries are particularly responsible for plastic waste
"Cheap plastic in disposable products has become increasingly dominant in industrialized countries," said Federal Environment Minister Steffi Lemke (Greens) in a statement. "It is therefore particularly important that the G7 now campaign for a quick end to plastic waste." By the end of 2024 the legally binding agreement to reduce plastic waste be negotiated.
Scientists estimate that around 4.8 to 12.7 million tons of plastic waste end up in the oceans every year. That's roughly the equivalent of one truckload per minute. According to information from the environmental foundation WWF, more recent calculations – which include lakes, rivers and seas – even assume that 19 to 23 million tons of plastic waste end up in these ecosystems every year.
Phasing out fossil fuels – but how?
When dealing with fossil fuels, the G7 states have committed to an accelerated phase-out – without naming specific deadlines for individual measures. The G7 countries pledged to "accelerate the phase-out of (…) fossil fuels in order to achieve net-zero emissions in the energy systems by 2050 at the latest," said the climate and environment ministers. In the declaration, they also called on other states to join the obligation.
As a new deadline, Great Britain and France had proposed ending "unchecked" coal-fired power generation in the G7 countries within this decade. However, due to the energy crisis triggered by the war in Ukraine, this goal was rejected by other members, including Japan and the United States.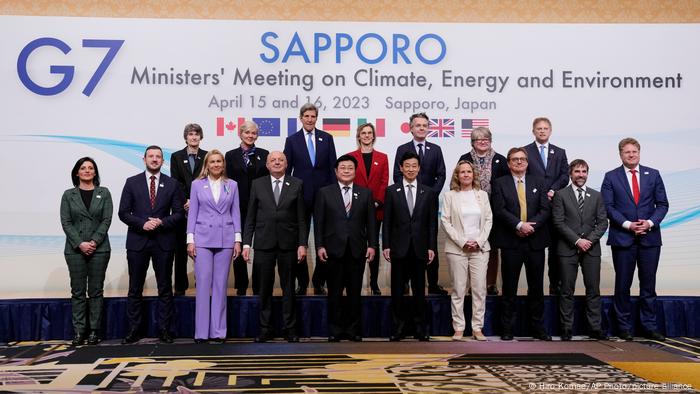 Not quite in agreement – G7 environment ministers in Sapporo
After a UN climate report last month warned that without "rapid and far-reaching" action on global warming, the target limit of 1.5 degrees could be reached in about a decade, environment ministers were under pressure to take ambitious steps to announce.
They became more specific in this regard during the expansion renewable energies and set goals for the expansion of solar energy and wind energy on the high seas. According to this, around 150 gigawatts of offshore wind capacity are to be added by 2030, which corresponds to the capacity of 150 nuclear power plants. In addition, an additional 1000 gigawatts of photovoltaics are to be installed. Germany has already decided to build around 150 gigawatts of solar and 22 gigawatts of offshore capacity by 2030.
In addition to Germany, the G7 also includes France, Italy, Japan, Canada, the USA and Great Britain. Japan holds the G7 presidency this year.
fab/kle (afp, dpa)