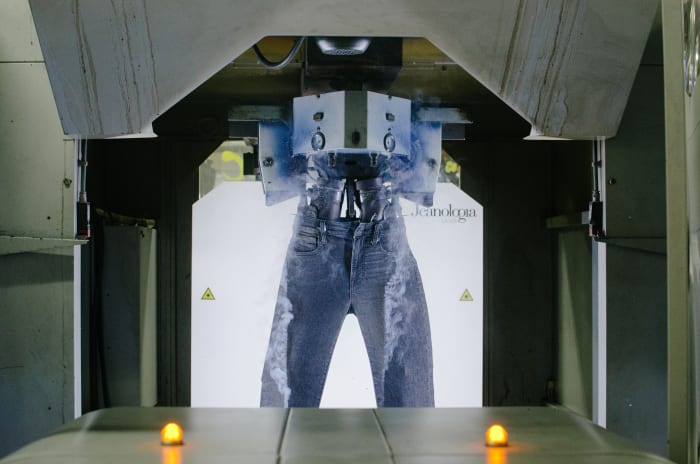 Welcome to our series Factory Tour, where we take you inside the manufacturing facilities of some of our favorite brands to find out how the clothes we buy are actually made. Next up: Saitex, an innovative, sustainability-focused factory that produces denim for brands like Everlane and Madewell.
If you're going to produce new clothing in an era that's seen multiple nations declare a state of emergency due to climate breakdown, you'd better be doing everything in your power to minimize your impact on the environment. Since most brands don't own their own manufacturing facilities, that means partnering with a factory known for sustainable production — of which Saitex is a premium example.
Located in Vietnam, Saitex is the denim partner of choice for a host of labels including ethical favorites like Everlane, Eileen Fisher and G-Star Raw, in addition to Madewell, J.Crew, Gap, Tommy Hilfiger, Outerknown, American Eagle, Ralph Lauren, Calvin Klein Jeans and more. Built in 2012, Saitex's current facilities were founder Sanjeev Bahl's response to the human rights and environmental injustices he encountered over a decade of global denim sourcing.
Related Articles
'Riverblue' Proves Just How Much Fashion Pollution Hurts the Planet — and Its Inhabitants
Do We Really Need Any More Sustainable Fashion Brands?
Inside a Global Beauty Brand's Mission to Invest in the Workers Who Make Plastic Recycling Possible
"He saw modern slavery and a lot of environmental damage," explains Saitex's Sustainability Project Manager Virginia Rollando when I visit the facility outside Ho Chi Minh City. "That's why he decided to do his own thing and set up his own factory."
Since its founding, Saitex has grown to accommodate five different facilities and now employs over 4,500 people and produces 20,000 pairs of jeans a day. Along the way, it's collected a lengthy list of ethics-centric certifications: Fair Trade, Oeko-Tex, LEED, Bluesign, the Higg Index and B Corp have all given Saitex their stamp of approval.
It's Saitex's innovative, technology-forward approach to sustainability that's led to it being described by partners like Everlane as "the world's cleanest denim factory." Read on to get an inside look at how it's accomplished this — and how it's continuing to evolve.
Saitex stores 5 million meters of fabric in this warehouse, all of which will eventually be made into jeans, denim jackets and more. At the moment, fabric is brought in from outside mills, but Saitex is currently in the process of building its own mill.
"When you do a lifecycle assessment of a garment — analyzing all its impacts in different phases from raw material extraction to end of use — you will notice that a lot of the worst impact is in fiber and fabric production," Rollando explains. "So even though we tried really hard to make Saitex sustainable, garments made here could still be not sustainable at all because there were so many steps earlier in the supply chain where we didn't have any decision power."
The Saitex mill, which should be up and running by 2020, is being built to LEED specifications and will be "fully covered in solar panels" that will be used to power the machinery. 6,000 trees are being planted in the adjacent lot to offset the plant's carbon emissions, and Rollando hopes that by designing fabric directly with brands, Saitex will be able to minimize excessive fabric finishing processes that can be harmful to the environment. 
Perhaps most exciting from a brand perspective, the mill will have no minimums, which is often a huge barrier for small labels that don't need to order large runs of fabric.
Saitex owner Bahl has also invested in Fibertrace, a technology that creates fabric that can be scanned — no hangtag required — to reveal information about who farmed the cotton or sewed the piece. Though it was initially developed as a way to fight luxury counterfeiting, Bahl is excited about the prospect of using Fibertrace in collaboration with a carbon-positive farm in Australia to make information about supply chains fully traceable and available to curious customers. 
"It's really going to be revolutionary. One issue in sustainability is that so much information is lost," says Rollando. "This technology works with pigments and minerals you find in bank notes and with a scan, you can detect these pigments in the fiber. They're inserted in the ginning process of the cotton. So you will be able to scan your garment and get all the information about the materials, where the cotton comes from, is it Fair Trade, is it B Corp."
All of that's in the future for now, as it's not yet commercially available in pieces that come out of Saitex. But it's just one of the ways Saitex is working to expand its sustainability cred.
For now, though, Saitex works with a whole range of conventional denim. Before the fabric in the warehouse can be cut and sewn into garments, it goes through the "relaxer," a machine that unspools the fabric so it's not stretched out of shape when it's cut. (Though the machine earned its name due to the effect it has on the denim, watching the denim pile up in these folds is hypnotic in a way that's pretty relaxing for any onlooking humans, too.) After it's unspooled, the fabric is left to rest for a bit before it moves onto the factory floor.
Paper patterns used to cut denim by hand. Photo: Whitney Bauck/Fashionista

" data-full-height="1325″ data-full-src="https://fashionista.com/.image/c_limit%2Ccs_srgb%2Cfl_progressive%2Ch_2000%2Cq_auto:good%2Cw_2000/MTY1MzUwMDYyMzE3MTg0Mjgw/saitex-sustainable-denim-factory-tour-14.jpg" data-full-width="2000″ data-image-id="ci024b717bc0002518″ data-image-slug="saitex sustainable denim factory tour-14″ data-public-id="MTY1MzUwMDYyMzE3MTg0Mjgw">