In a remote corner of Iceland, a sprawling field of dark rocks and a small patch of thin ice is all that is left of a former glacier called "Ok" that once covered around 15 square miles. In a month, the site will also host the first glacier memorial.
A new plaque, set to be installed on August 18, has a simple message to anyone in the future who happens to hike there:
Ok is the first Icelandic glacier to lose its status as a glacier. In the next 200 years all of our glaciers are expected to follow the same path. This monument is to acknowledge that we know what is happening and what needs to be done. Only you know if we did it.
It's marked with the date and a recent reading of the level of CO2 in the atmosphere: 415 parts per million. For most of human history, that number has never topped 280 parts per million; it was last this high at least 3 million years ago.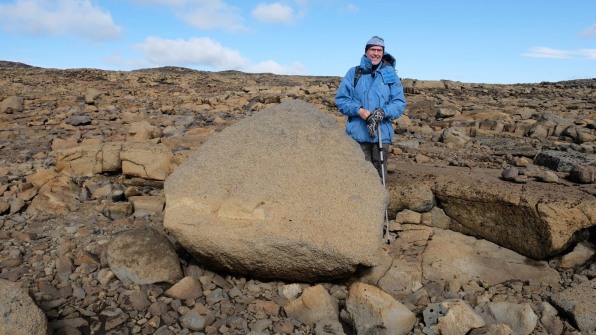 Researchers from Rice University in Houston, who first traveled to Iceland to study how the loss of ice was affecting the national sense of identity, had heard multiple people mention the idea of death and headstones. Oddur Sigurðsson, the glaciologist who first declared that Ok was no longer a glacier in 2014, had jokingly talked about a death certificate. It was a small glacier, and the news of its demise didn't really reach beyond Iceland. (Some even smaller glaciers in the country, too insignificant to be named, had already melted before Ok.) The researchers decided to make a film about it, called Not Ok, and then decided to create the memorial.